Art Jam Science Park - Inspiring Creativity, Empowering Community
Community
Published On Mon, 26 Jun 2023
Singapore Science Park launches 40th anniversary celebration with community art programme aimed at fostering inclusivity and community engagement.

Introducing Art Jam Science Park
Singapore Science Park proudly celebrates its 40th anniversary this year, and to commemorate this remarkable milestone, CapitaLand Development unveils Art Jam Science Park.  This programme is designed to infuse art into the park, foster community involvement, and provide opportunities for giving back, while fostering inclusivity and community engagement.
As a community-driven and community-directed project, the year-long programme involves:
Art - the production of a set of picnic benches featuring artworks created by persons with disabilities.
Adoption – the invitation to tenants and partners of Singapore Science Park to adopt the art benches and contribute to a cause.
Activation - the display of the art benches across Singapore Science Park and the introduction of activities to bring the community together. 
Celebrating Art created by Persons with Disabilities
Art Jam Science Park aims to create an environment that embraces diversity and inclusivity by showcasing artworks created by persons with disabilities.  This year, the spotlight is on the artistic talents from ART:DIS, Metta Welfare Association, Movement for the Intellectually Disabled of Singapore, Rainbow Centre and Journey by Touch Community Services, whose art reflects their resilience, passion and creativity.

Bench Art Edition

Picnic benches have been chosen as the canvas as they symbolise socialising and community, nature and sustainability, leisure and recreation, as well as equality and inclusion.  
In commemorating Singapore Science Park's 40th anniversary, a total of 40 picnic benches have been fabricated using wood reclaimed from pine wood pallets and fallen Balau trees.

Adopt-a-Bench: Giving back to the Community 

The programme extended an invitation to corporations situated in Singapore Science Park and partners of the park to participate by adopting the art benches.  A total of 18 organisations embraced the opportunity and adopted the benches.  They include CapitaLand Ascendas REIT, CapitaLand Development, ClavystBio, Counseling Perspective, Curtin Singapore, DNV, Hummingbird Bioscience, Merck, MiRXES, Mott Mac, Roceso Technologies, SAA Architect, Sea, Shimadzu, Singrow, Squire Mech, Surbana Jurong and Woh Hup.
Together with donations from CapitaLand Hope Foundation, the philanthropic arm of CapitaLand Group, the community contributed over S$270,000 collectively to benefit the five charity organisations, in support of skills development initiatives for youth with special needs.
Art Jam Workshops

More than 200 volunteers from the Singapore Science Park community, which included representatives from the organisations that adopted the benches, collaborated with 45 talented individuals from the initiative's charity partners to collectively paint the benches.
Celebrating the Singapore Science Park Community: Uniting through Art
Art Jam Science Park showcases the remarkable impact that can be achieved when the community comes together with a shared sense of collaboration. This is exemplified through the display of 40 art benches in Singapore Science Park, symbolising the possibilities that arise from collective efforts. These art benches will serve as dynamic venues for our community events and activities throughout the year. 
As Singapore Science Park commemorates 40 years of innovation and progress, let us unite in celebrating the unique talents and contributions of all members of our community, regardless of their abilities. Together, we can create an environment that is not only visually captivating but also fosters a deep sense of belonging and equality.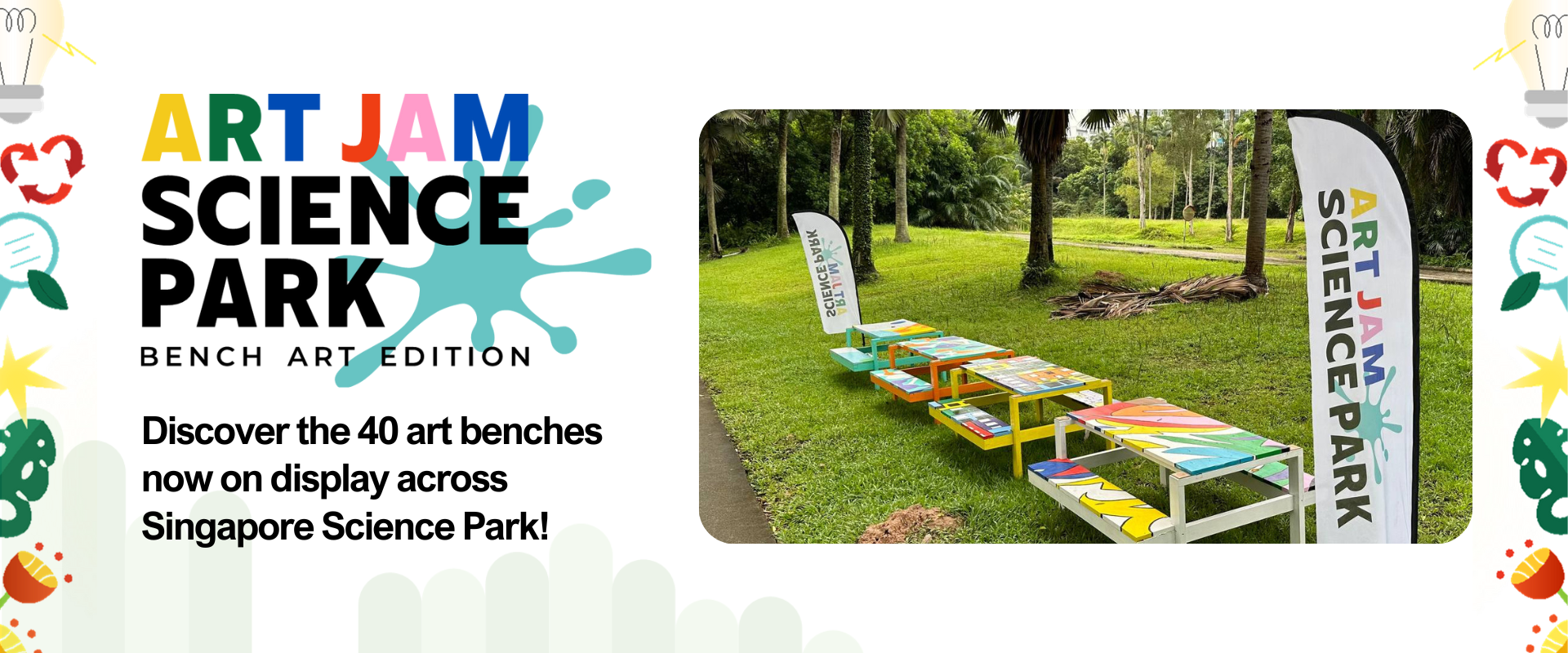 Discover the 40 Art Benches Across Singapore Science Park!

These masterpieces are now proudly displayed across Singapore Science Park until the end of the year. To ensure wider access and enjoyment, we plan to shift the art benches within the park from time to time.
Keep your eyes peeled for these art benches as you explore Singapore Science Park!
_________________________________________________________________________________________________________________