Growing Green
Community Business Sustainability
Published On Wed, 01 Jun 2022
 Image courtesy of NUS Agritech Centre.

Autonomous drones for pollination? White strawberries in our tropical climate? These are just some of the exciting innovations that are being explored at the NUS Agritech Centre in Singapore Science Park. Professor Freddy Boey gives us a sneak peek into the incubator.
We might have some inkling of what it takes to grow vegetables for food. Who else recalls bringing green beans to school for science class, putting them on soaked cotton pads in cardboard egg cartons? Seeing the beans germinate and sprout, and watching the seedlings change their direction of growth according to the direction of the sun was all fascinating—but then what? If you didn't have green thumbs, it was likely that the seedlings died off soon after, and you never got to enjoy that tau gey harvest you might have imagined. Sadly, this brief brush with farming might have coloured our perceptions of growing our own produce in Singapore: as something that doesn't usually pay off.
But we might no longer have much of a choice. Now that we're well into 2022, Singapore's 30 by 30 goal—of which we aim to produce 30% of the population's nutritional needs locally and sustainably by 2030—doesn't seem that far away at all. While we might not see a drastic change in what's being offered on supermarket shelves just yet, the ground is slowly shifting beneath our feet—in a good way. Rooftop farms such as those by Edible Garden City at Funan, or LiteLeaf at Singapore Science Park 2, have been bringing local produce into our urban landscapes, while other scientists have been embracing technology and unconventional sources to ensure a more food-secure future. 
Something else that's been quietly making waves is the NUS Agritech Centre located at The Cavendish in Singapore Science Park. Launched in September 2021 by NUS Enterprise, the entrepreneurial arm of the National University of Singapore (NUS), the centre's objectives are directly aligned with 30 by 30; through the use of innovative technology, it hopes to overcome some of the land and resource constraints in Singapore. The centre is designed to support start-ups from growth to post-harvest, building capabilities in serving up urban farming food options from lab to table.

Nusoil's founder Dr Tan Wee Kee introducing its start-up technology to NUS President Professor Tan Eng Chye, NUS Deputy President (Innovation & Enterprise) Professor Freddy Boey and NUS Enterprise Director Mr Brian Koh. Image courtesy of NUS Enterprise.

Professor Freddy Boey, Deputy President (Innovation & Enterprise), National University of Singapore, gives us a peek into the many exciting innovations that are happening behind closed doors.
At the same time, we thought we'd share with you a little bit more about what it takes to grow your own produce, hydroponically—just in case you want to take on the production of some of your own food in the future. 

Step 1: Planning 

As the adage goes: if you fail to plan, you plan to fail. Planning is one of the most important and crucial steps in your hydroponic growth journey, where you decide what you grow, and how you grow it. This involves deciding what type of hydroponic system to use, as some systems work better for certain types of produce compared to others. In this stage, you should also get all the supplies you need, including nutrients and supplements to support growth.

Similarly, NUS Agritech Centre was planned to a tee to support the needs of agricultural technology start-ups. The centre includes five Grow Zones in various sizes, two Precision Climate Zones, a Multipurpose Zone that can be converted in-situ to recycling waste water or as a cultivation area, a Technical Zone with germination chambers and specialised lab equipment for high-accuracy analysis, as well as Wet and Dry Washing Zones.

Professor Boey shares about some other exciting features of the centre, which include the integration of Internet-of-Things (IOT) and data analytics. "Temperature, humidity, carbon dioxide, oxygen, pH, plant nutrients and lighting can be precisely controlled and monitored anywhere with an internet connection, which is also a plus for safety measures during the Covid-19 situation," he says. Talk about next-level farming.

Singrow uses agrotechnology to grow premium fruits and crops, and has successfully cultivated the first white strawberry variety developed in a tropical country, and developed a faster indoor hydroponic strawberry cultivation method. Image courtesy of NUS Enterprise.

Step 2: Propagating, Cultivating, and Growing

The next step in your hydroponics journey is, of course, cultivating and growing the produce. You can choose to germinate seeds or propagate seedlings, but either way, you'll need to establish a healthy root system to ensure that the plant has a good foundation to continue growing.

That's just like how the NUS Agritech Centre hopes to sow the seeds for change, encouraging continued innovation and research from students and researchers fresh out of school. "Increasingly, we are finding more NUS spin-offs from the Graduate Research Innovation Programme (GRIP) engaged in this area," Professor Boey says. Launched in 2018, GRIP provides step-by-step guidance to enable NUS postgraduate students and researchers to transform research into deep technology start-ups. As NUS' first major effort in the field of agritech innovation, the centre presents the opportunity to experiment with interesting ideas that are in the areas of urban food growing, from pre- to post-harvest. "It is in our interest in pursuing agritech and urban farming as a theme across our venture creation programmes and to support our community," adds Professor Boey. "Our hope is that the technologies and knowledge generated from the NUS Agritech Centre can be applied at scale to improve efficiencies and lower the cost of future food production and in turn, help to fulfill Singapore's 30 by 30 goal and beyond."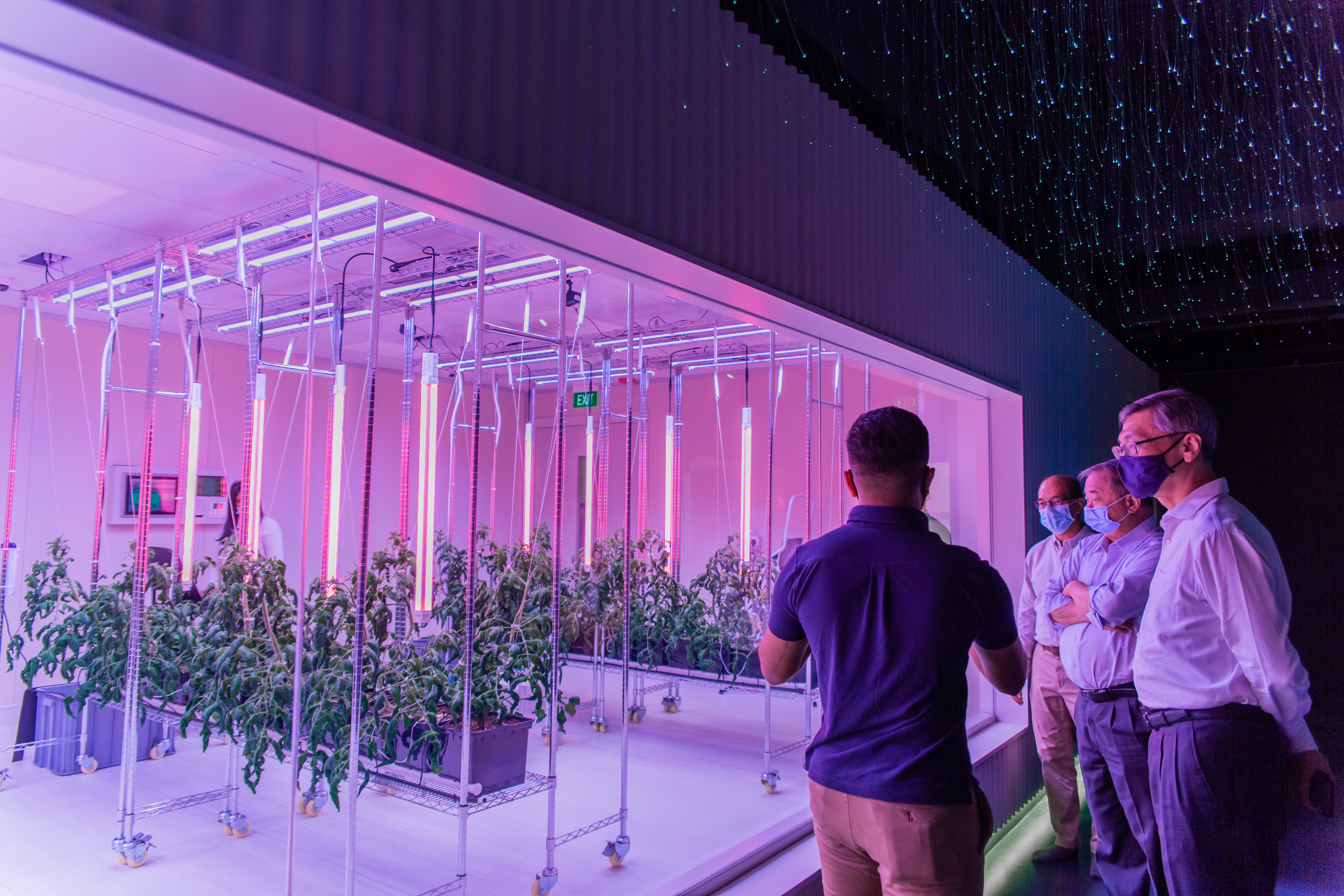 Polybee's founder Mr Siddharth Jadhav giving a demonstration on pollination by drones to NUS President Professor Tan Eng Chye, NUS Deputy President (Innovation & Enterprise) Professor Freddy Boey and NUS Enterprise Director Mr Brian Koh. Image courtesy of NUS Enterprise.

Step 3: Harvesting & Packing

If you've done all your groundwork and tended meticulously to your produce, it's now time to reap the fruits of your labour. Harvesting is understandably the most exciting stage of growing produce hydroponically, and if you've invested the time to explore various types of fruits and vegetables, you might find yourself with a bumper crop of a variety of produce that can be harvested year-round and used in a multitude of dishes.

While we might associate agritech and food security solely with hydroponically-grown fruits and vegetables, the spectrum of incubatees at NUS Agritech Centre prove otherwise, and show how it's wise to spend time and effort exploring a wide range of innovative technologies that can go towards creating a more food-secure future.

There are seven companies that are currently incubating at the centre, specialising in different areas of agritech. For example, NUS Department of Biological Sciences' laboratory specialises in functional genomics—aiming to use genome-wide association studies to breed new vegetable varieties suitable for indoor farming. The team is gathering a large collection of varieties from around the world, including some that are not planted commercially. It is extensively phenotyping these varieties and variants, mapping their genomes, identifying desirable genes and markers for exceptional qualities (from yield rates, taste, quality and nutrition) and cross-pollinating the varieties to develop new varieties for indoor farming. 

There's also Polybee, which builds small autonomous drones for pollination in those sectors of agriculture where the only way to do it is by hand; its first two markets are indoor vertical farming and hybrid seed production. In addition, REAPED aims to make urban shrimp farming easier, cheaper, and more energy efficient through sustainable urban aquaculture and aquaponics solutions with automated shrimp hatchery and plant growth systems. The various incubatees and their promising projects show that there are countless ways that we can harness technology for agriculture.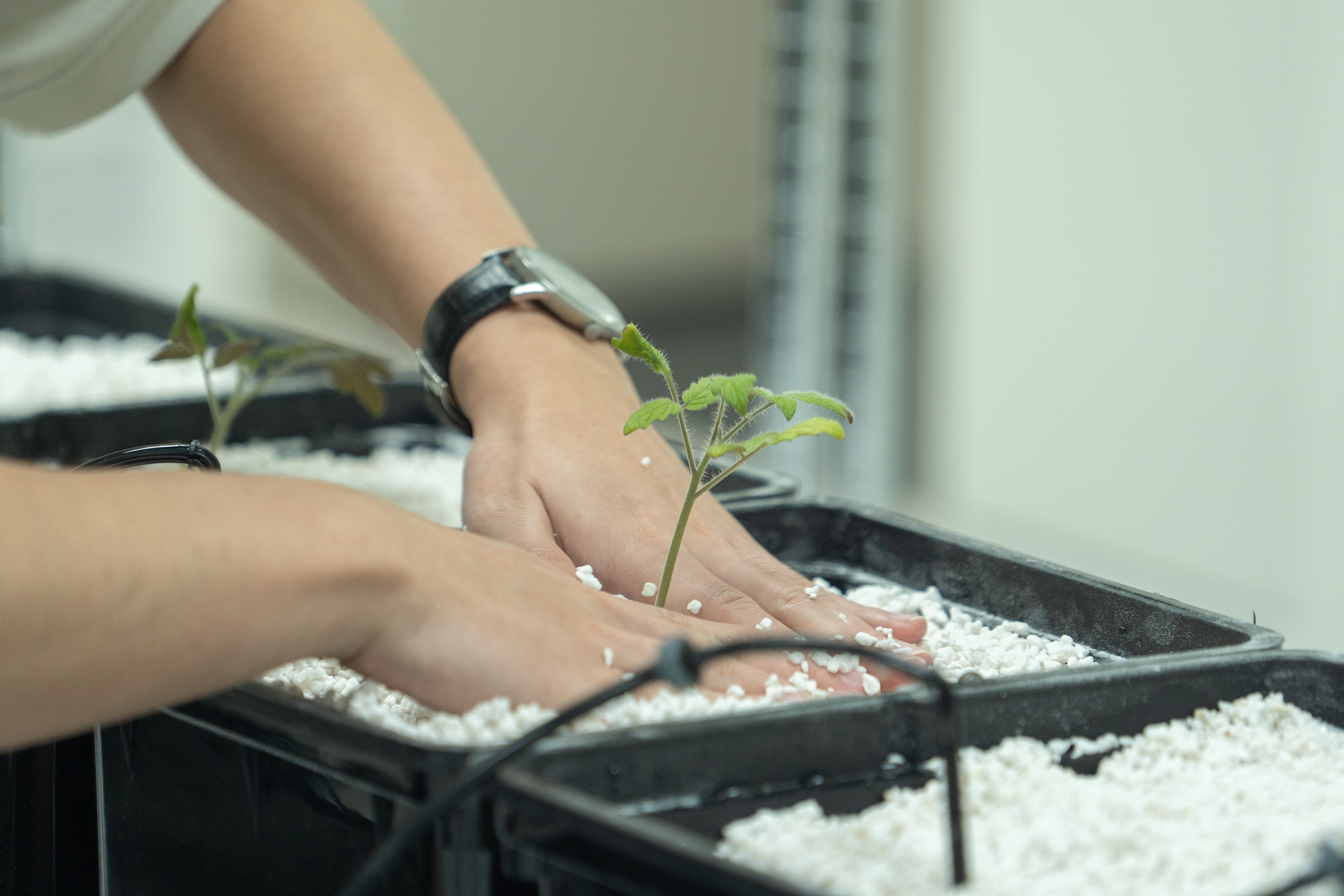 One of the challenges of growing hydroponics is that the use of water might encourage the breeding of mosquitoes if not monitored closely, especially in tropical countries like Singapore. Image courtesy of NUS Enterprise.

Step 4: Dissemination & Consumption
If you're growing produce commercially, the final step is to distribute it to customers. Growing locally means less dependence on global supply chains, which, as the Covid-19 pandemic demonstrated, are subject to a variety of influences that can disrupt supply. In addition, the fact that the produce doesn't need to go through the extensive process of being packed for a long journey, and shipped by air, sea, or land, also significantly reduces the carbon footprint of the fruits and vegetables. 
"Urban farming redefines the physical boundaries by bringing the farm closer to town and people, with "just-in-time" harvesting and efficiency in food production," Professor Boey adds, elaborating on the increased interest in urban farming. "Food production is not affected by the natural elements and with urban farming, data can be derived for future R&D purposes."

Nonetheless, Professor Boey doesn't believe that traditional farming methods will fade away completely; instead, agritech will likely enhance and add efficiency. "The future of food will be one that surrounds new varieties or new sources, arising from innovation," he says. "There may be more controlled environment to help create and speed up food production; or new ways of food production taking into consideration sustainability and climate changes. For instance, our start-up Singrow is producing temperate and exotic crops (like the first white strawberry variety) within the tropical climate of South-East Asia."

But apart from relying on companies and our government to produce the food that we consume, perhaps it's also time for us to think about the individual roles that we have to play. Apart from buying local, can we grow local too? If we think about it, if each of us is able to grow at least 30% of our own food, that significantly reduces the strain on land- and resource-strapped companies. And with the ever-increasing options of urban-home-ready hydroponic systems (such as this or this), wouldn't it be great to see a future in which every Singaporean has a mini farm in their homes? 

We're definitely optimistic, and further encouraged by initiatives like the NUS Agritech Centre which, at the very least, we hope will encourage other Singaporeans to make more conscious choices when picking out food and groceries. In fact, that's one of the challenges that we set out in our Let's Get Down To Earth Festival, which concluded just recently in May 2022. There's no reason to wait for a sustainability festival to get started in your own way, though—you can take a look back on the activities, challenges, and workshops that happened during the festival, and see if you can implement any of them in your day to day. In the meantime, we're thinking about which corner of our balconies can be converted into a little urban farm. 

_________________________________________________________________________________________________________________